Whitesburg Mayor Craft and daughter Sammy, Appalshop Executive Director Alex Gibson, Appalshop Founder Herb E. Smith, Appalshop's Appalachian Media Institute Director Willa Johnson, and MACED's Josh Bills cut the ribbon on Appalshop's solar pavilion.
We're thrilled to have unveiled the largest net-metered renewable energy system in Eastern Kentucky.
With a freestanding "solar pavilion" on Appalshop's grounds, and more solar panels on the roof of our Boone building across the street, we're generating almost all of our own energy usage and demonstrating what's possible in the coalfields.
Below are the technical specs on our net-metered renewable energy system and our vision for what this means for our region.
See how much energy we're producing, and how much we're using, in real-time below.
Why did Appalshop go solar?
In the last decade alone, energy costs have gone up by almost 50 percent, and they're expected to keep rising. We paid an average of $1,200 a month for our main building's electricity before installing solar, and we know that in the next few decades that bill could double or more. That's unsustainable for us.
Installing solar allows us to stabilize and reduce our electricity costs. Although we are now paying back a loan for the cost of the solar panels, the loan repayment rate doesn't change — unlike the demand charge rates from Kentucky Power, which recently spiked again — and once we've paid off our loan we expect to have virtually no electric bill. Even since we unveiled the system in June 2019, we've seen drastically lowered energy costs. Unusually cold winters have pushed many organizations in our region to the brink of closing their doors, and we believe alternative energy sources like solar are critical to their futures and our own.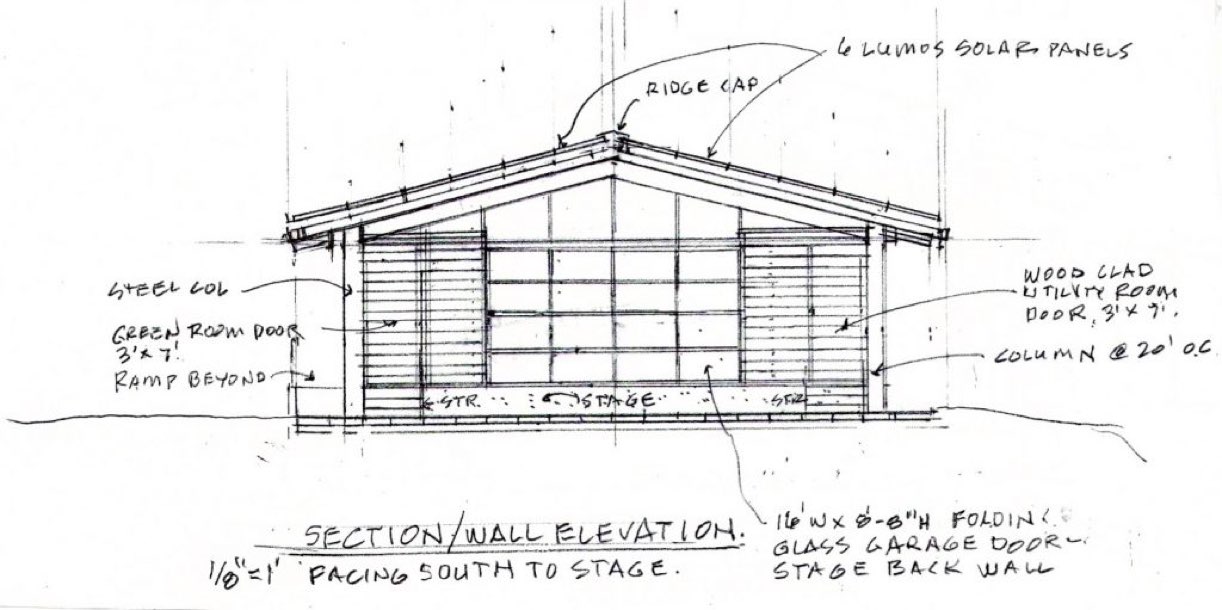 We also invested in a net-metered renewable energy system because of our conviction that it represents a future for our region. We see solar as a powerful economic engine in Eastern Kentucky, and we want to pave the way for our neighbors to explore work weatherizing homes and businesses, installing efficiency measures, and constructing systems like ours. We believe it's almost impossible to be what you can't see, so to demonstrate what a renewable energy system is — how it works, what its benefits are — we built one.
Why now?
It's especially poignant for us to unveil a solar project now, 50 years after our founding in 1969, when young people chose not to wait to see what was possible, but to build it themselves.
We believe we've carried that spirit through the decades, and we're thrilled to celebrate our 50th anniversary with a tangible embodiment of our commitment to the region's future. You can be part of it by hosting an event, leaving a legacy, donating, or taking a seat.
For 50 years, Appalshop has been illustrating what's possible in Appalachia. We're very excited to usher in our next 50 with this solar pavilion.
How does solar energy work?
Solar panels use the sun's energy to generate electricity. Comprised of many smaller units called photovoltaic cells, solar panels allow photons, or particles of light, to knock electrons free of atoms. That generates a flow of electricity to our building, where inverters transform it from Direct Current (DC) to Alternating Current (AC). AC is used to deliver power to houses or offices like ours, so once it's in this form we can use it in all in all the normal ways you'd expect, from turning on the lights to running power to an outlet.
How does Appalshop's renewable energy system work?
When we use electricity in the building we now draw from the electricity generated by our solar panels before we draw from the electricity supplied to us by Kentucky Power. If our solar panels produce more electricity than our building uses, electricity flows from the pavilion back to the electric grid, where it can be used by other customers. This is what's called a 'grid-tied system,' because we are 'tied' to the electric grid set up by a utility company.
Some solar panel systems also incorporate batteries. In that case, when the panels generate more electricity than the building uses, electricity flows into batteries that can supply the building when the sun isn't shining. We don't have this set-up. Instead, if we produce more energy than we consume over the course of a month, we get a credit on our bill, which is then applied to our future monthly bills.
What does Appalshop's solar pavilion look like?
The crew from Solar Energy Solutions installs the last solar panels on our solar pavilion. (c) Marley Green.
Our main building has a unique roofline, with special light wells and a transmitter for our radio station to send out its broadcast. Putting panels on our roof wouldn't begin to put a dent in our energy use. They'd also be too high for people to see, undermining our ability to demonstrate how solar works.
As a result, we designed a free-standing pavilion in collaboration with local architect Bill Richardson and Appalachian Construction Services to support the solar panels. The panels are clear, both allowing natural light to illuminate the stage below and enabling us to really see the technology.
The pavilion replaced the tent we usually rent for our annual Seedtime on the Cumberland festival, and constitutes a brand new, permanent venue for performances in downtown Whitesburg.
To increase our energy production, we also put solar panels on the roof of our Boone building across the street. Solar Energy Solutions out of Georgetown, KY installed both the panels on the pavilion and on the Boone building.
How much energy does Appalshop's net-metered renewable energy system produce?
With 192 panels incorporated into the roof of the freestanding solar pavilion on Appalshop's grounds, and another 42 solar panels on the roof of its Boone building across the street, our total system generates more than 12 houses' worth of electricity — more than any other net-metered renewable system in the region.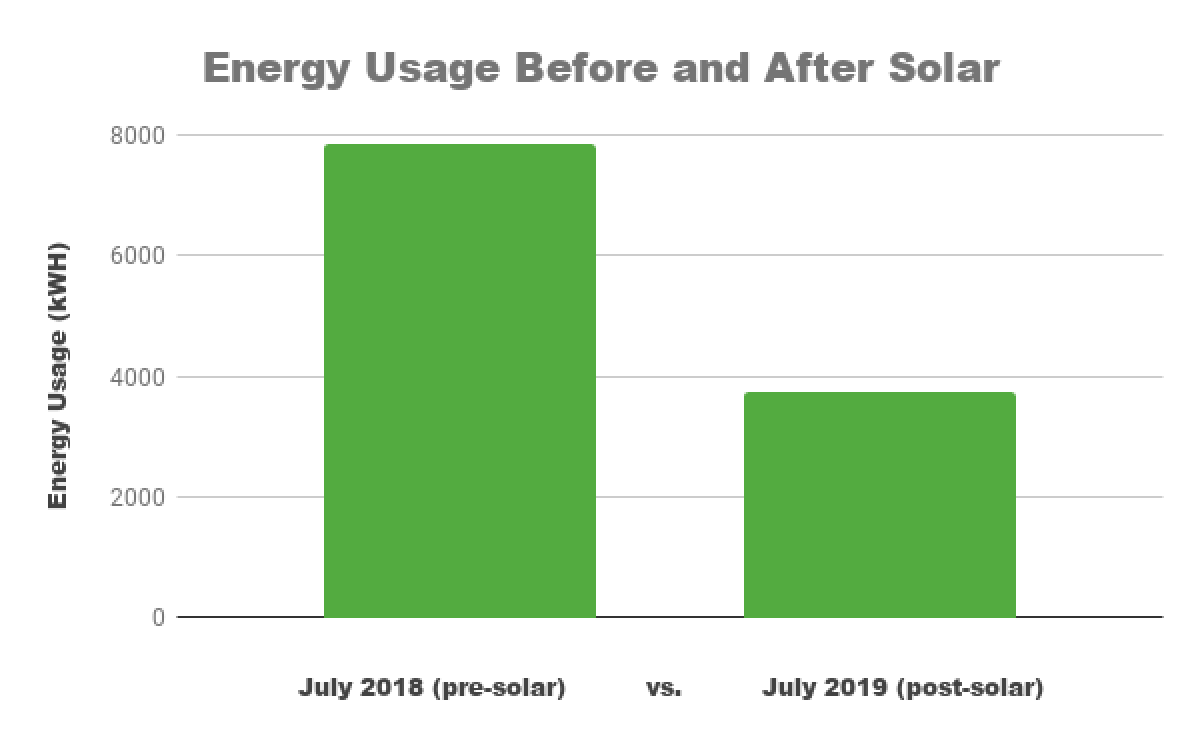 Together, we anticipate that the panels on the pavilion will produce about 60-70 percent of Appalshop's monthly energy usage (and some months, over 100 percent).
At the Boone building, solar panels should average about 40 percent of our monthly energy usage, varying from 20 to 80 percent depending on the time of year.
How much did Appalshop's system cost?
We're now fundraising specifically to offset the cost of our solar installations. You can be part of our solar project — and our partners' solar projects in the Letcher County Culture Hub — by donating here.
To install the panels on the solar pavilion we paid an installation cost of $183,966. We paid $37,519 to install the panels on our Boone building. Construction of the solar pavilion cost about $233,000.
We financed those costs through a $460,000 loan with a 20-year term and 4 percent interest rate from an organization called MACED, which supports small businesses and non-profits with low-interest loans for energy efficiency and renewable energy updates.
We have a monthly loan repayment of $1,003.73 on our solar pavilion and $159.26 on our Boone building. Although our solar projects will pay for themselves over time, they are prohibitively expensive to pay all upfront or even over a very short loan term, so MACED's support was critical.
How much will Appalshop's system save?
We anticipate a reduction in our energy costs of approximately $8,400 per year thanks to the solar panels on the pavilion. We will repay about $12,000 a year on the loan that we took out to install them, so if we assume a modest increase in energy rates of 4 percent per year (since rate increases have averaged more than 5 percent over the last decade) we expect to save at least $10,000 above cost over the course of the loan repayment period.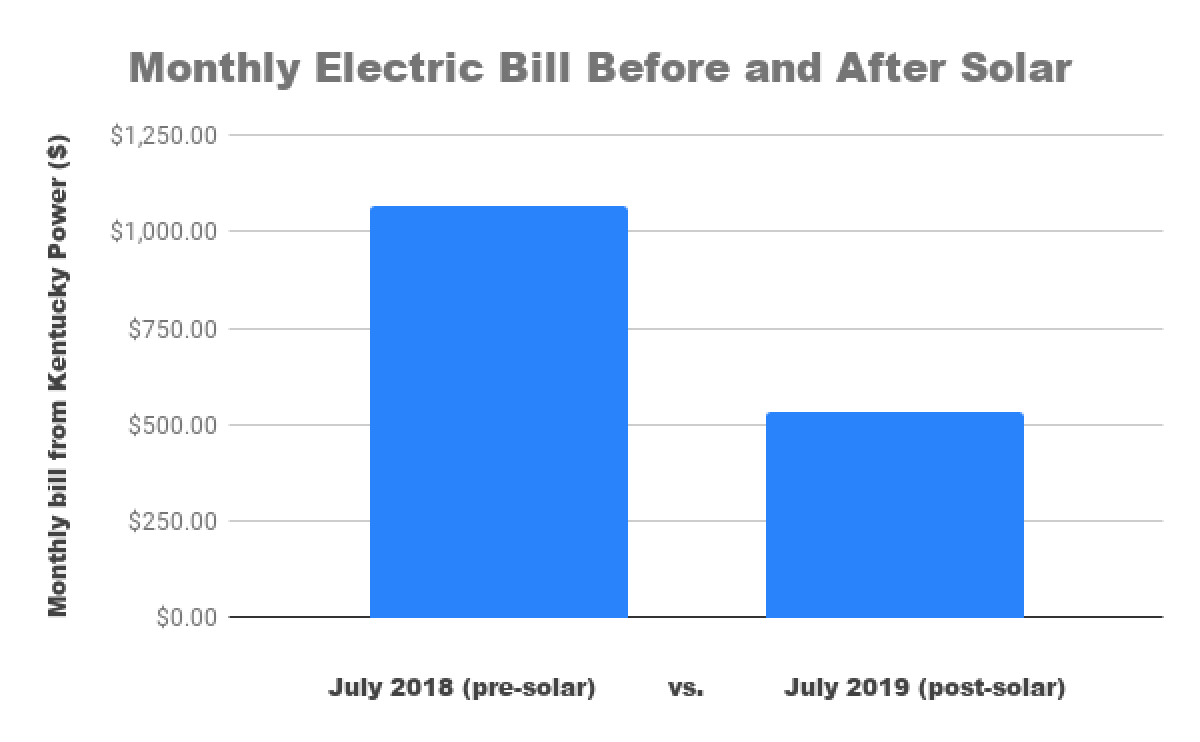 We based these estimates on previous bills and anticipated production, but they don't account for additional energy efficiency upgrades that we're also exploring that may further impact both our energy usage and our monthly bill.
That does not include the cost of the pavilion itself, however, whose construction was distinct and whose financial benefits are more difficult to anticipate. At the very least, the pavilion will offset approximately $2,000 per year in what we used to spend on a tent for our annual Seedtime festival.
The solar panels on the Boone building, on the other hand, will be immediately cash positive. They will save approximately $2,100 per year with loan repayments of $1,900 per year, saving us at least $13,000 over the term of the loan. The Boone building solar panels will pay for themselves after about 17 years.
We remain convinced that this is a smart financial, symbolic and community-oriented move for Appalshop that will pay dividends for decades to come.
How long did it take to build Appalshop's solar pavilion?
The project took two years from idea to completion. We worked with partners to get quotes from three different regional installers and with MACED commercial energy specialists to analyze our needs and possible solutions. Actual construction of the pavilion and installation of solar panels took two months from groundbreaking to ribbon-cutting.
How long will Appalshop's net-metered renewable energy system last?
The panels on our solar pavilion and Boone building are guaranteed for 25 years. We have a return on investment of both systems of about 18 years, and a loan term of 20 years, meaning we have a guaranteed 5 years of free energy. We calculate that those 5 years alone will see approximately $75,000 in savings.
What laws or regulations govern Appalshop's system?
The Kentucky General Assembly passed SB 100 into law in 2019. Prior to this law, utilities were required to credit customers who produced energy through home residential energy systems at the same rate as they would have paid to purchase energy. But under SB 100, big utilities may now credit only pennies on the dollar for energy produced by home residential energy systems, selling that energy back to customers at full price.
Luckily, we are grandfathered into the original rate because of when we installed our solar pavilion, meaning that the energy credit we receive is more equitable.
But for most Kentucky residents and businesses, who will now be paid less than the going rate, laws like this undermine efforts to create new jobs and stable financial systems for a region increasingly vulnerable to harsh winters and still rebounding from the collapse of the coal industry.
Is Appalshop the only institution with solar power in Eastern Kentucky?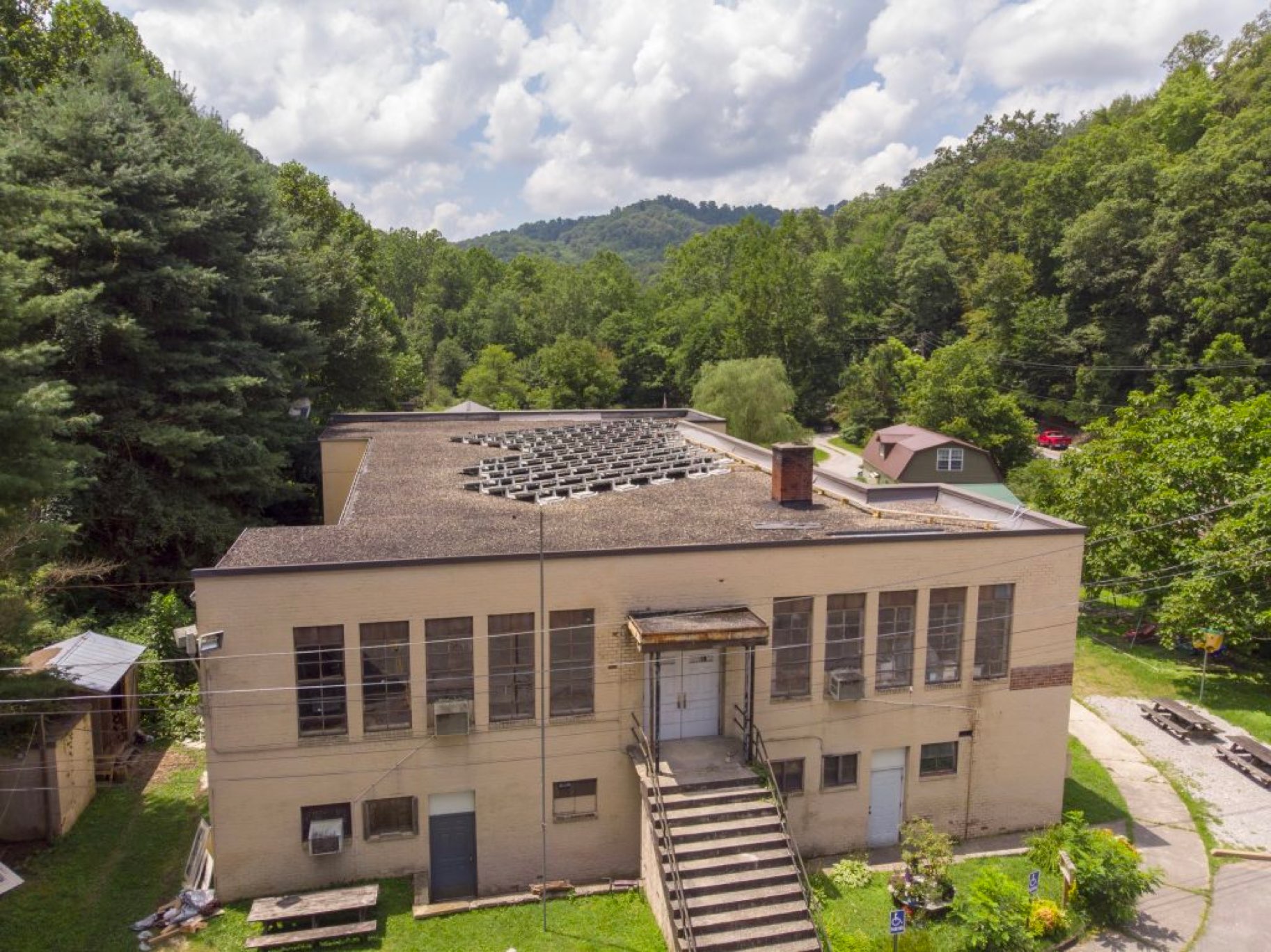 Hemphill Community Center, our partner through the Letcher County Culture Hub, is also installing solar panels on their roof. (c) Oakley Fugate.
These projects follow in the footsteps of fellow communities all over Eastern Kentucky exploring and implementing solar installations, from the Kentucky Coal Museum and the Campton Baptist Church to the cities of Lynch, Livingston and Mt. Vernon.
We're now collaboratively fundraising specifically to offset the cost of all of our solar installations. You can be part of our solar project — and our partners' solar projects in the Letcher County Culture Hub — by giving here.
Can I rent Appalshop's solar pavilion?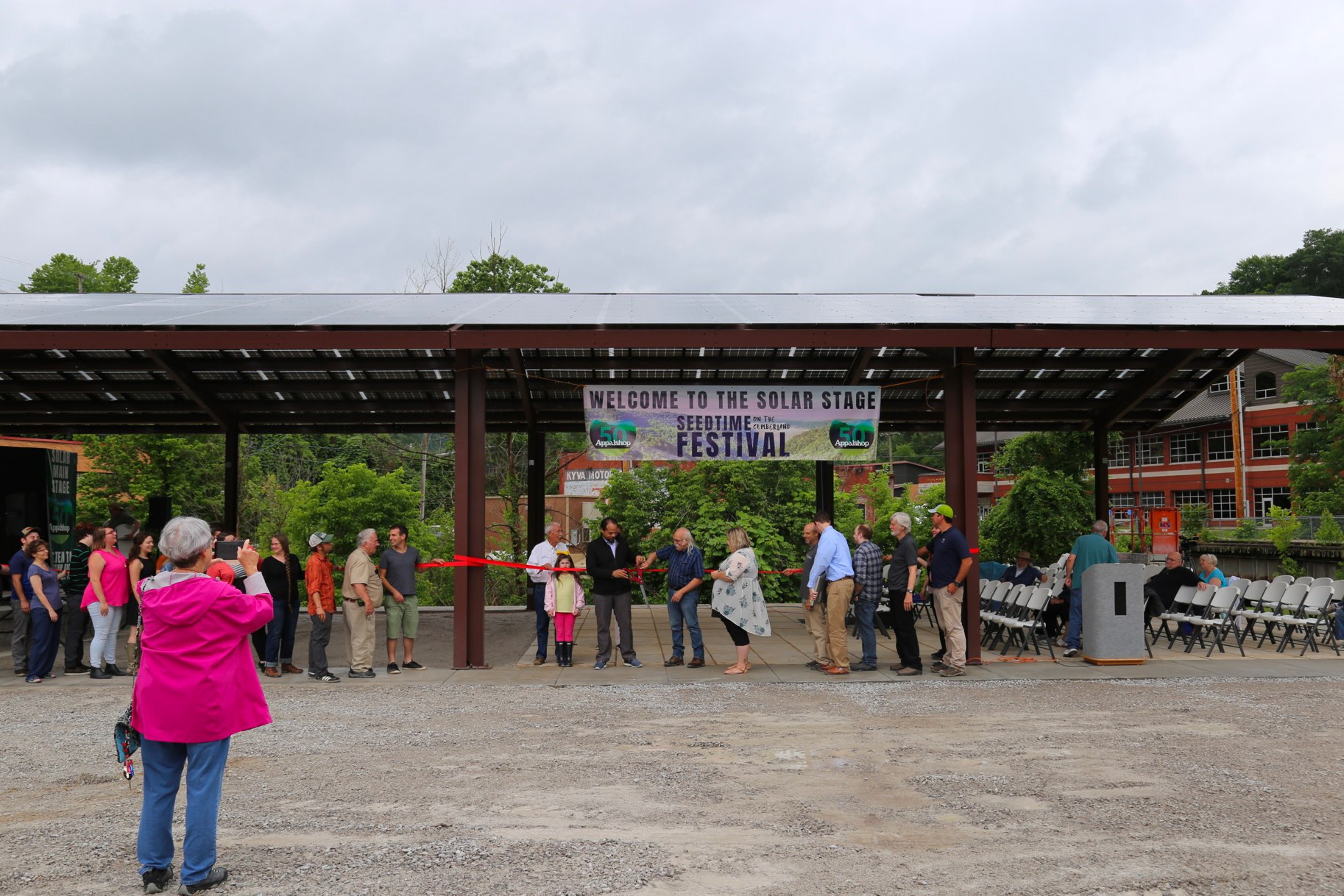 We cut the ribbon on our solar pavilion in June 2019. Since then we've hosted our annual music festival, a square dance, our local farmers market, and a concert series. The future likely holds more concerts, film screenings — and your event.