Two months later, we reflect on where we are after the floods
2 months ago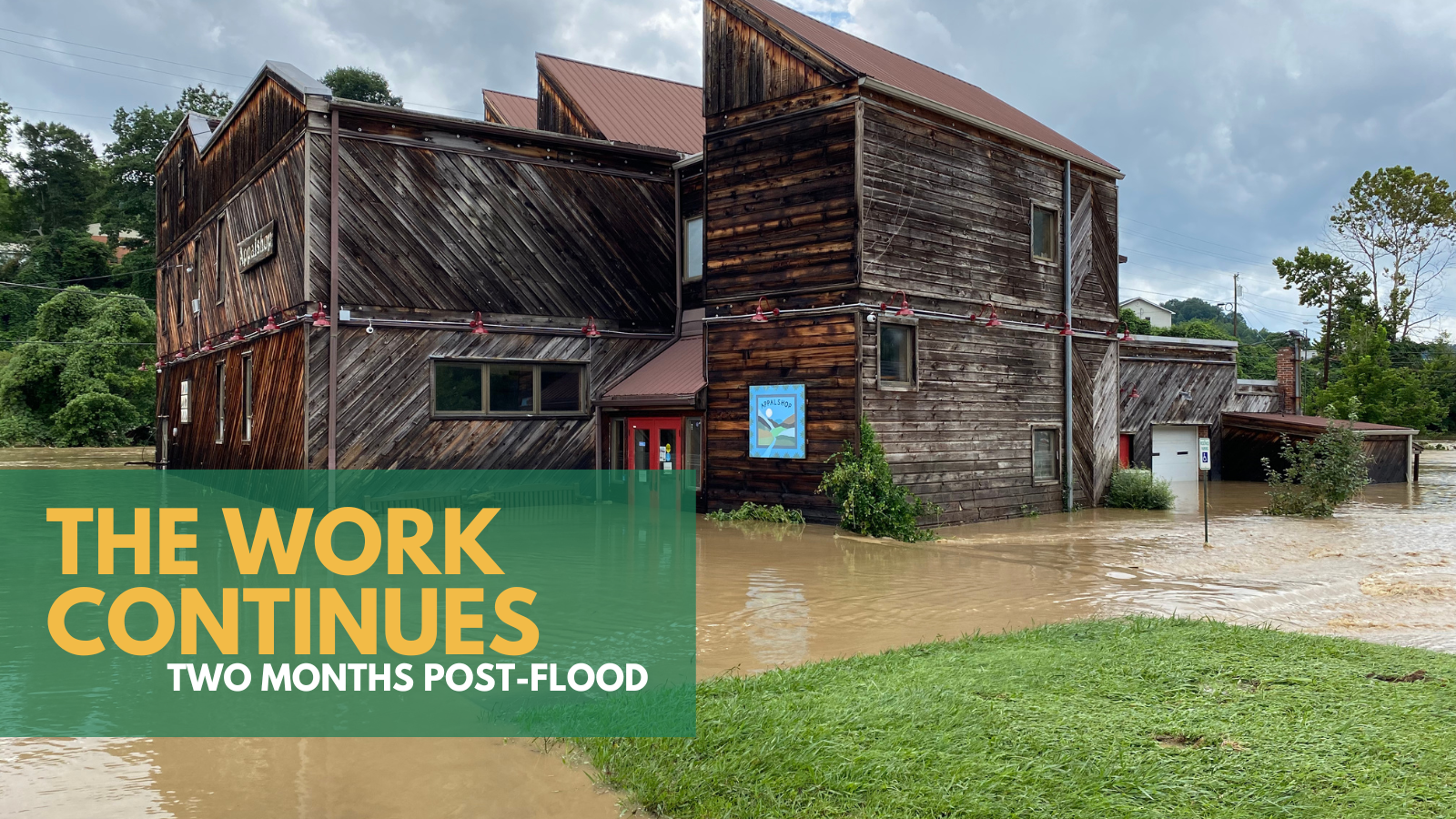 It's been two months since we and our neighbors awoke to a horrific flooding event and we're still processing what that means for us as well as our wider community.
Today, we remain embroiled in what is sure to be a lengthy recovery effort. As mentioned in past updates, both our main, iconic Madison Street building and the Boone Building were heavily damaged and all our programs took direct hits - our archive totally submerged for hours, our theater and live on-air radio studio complete losses, and the total devastation of the facilities where we taught young Appalachians how to tell their own stories for years.
Yet, despite these hardships, our work continues. We've been working hard to ensure that we can continue to do what we've done for over fifty years - support our Appalachian community as best that we can and lift up these stories in our own words:
WMMT is back operating! The signal from the tower on Mayking Peak has been restored and volunteer DJs are once again being invited back into the fold, right now with recorded programming, but soon from WMMT's mobile studio that's currently a work in progress!
Appalshop Films - which lost all of their equipment in the floods - has begun to secure funding for equipment replacement and centering their artistic focus to documenting the recovery effort both at Appalshop and throughout the affected region.
Despite the Archive being inundated with almost seven feet of flood waters, early reports from preservation labs have been encouraging and we are hopeful that the quick actions taken in the first weeks of the flood will result in a significant amount of material being saved.
Appalachian Media Institute was able to fully restore 2 of the 2022 Summer Documentary Institute intern films and partially restore a third that were damaged in the floodwaters. They held a screening at the Kentucky Theater in Lexington, KY earlier this month with ticket sales benefiting flood recovery efforts for AMI.
Roadside Theater staff continue to direct their efforts to relief and recovery in our neighboring communities, securing housing and helping youngsters and other members of the community process recent events through performing arts activities.
None of this would be possible without unrelenting efforts from our staff as well as our terrific and numerous volunteers and partners like you. Your support - be it through financial donations, physical donations, volunteer help, or anything in between - has made it possible for us to continue the work that we are so committed to.
From the bottom of our hearts, thank you. Thank you for believing in the mission and work of Appalshop over the years and for helping us ensure that work continues. We truly couldn't be where we are now without you.
Back Home