Appalshop's Community Media Initiative (CMI) program works with community members, grassroots groups, and public interest organizations to create video, audio, and social media that challenge and change the narratives around communities and issues in Central Appalachia. CMI projects support efforts to achieve individual and community well-being as well as social and economic justice through community organizing, civic discourse, local problem solving, and the creation and implementation of public policies on the local, state, and national levels. In addition to our work as part of All Access EKY, here's some news about what our CMI crew have been up to:
Film
Just released to wide acclaim, Calls from Home is a short documentary that shares the stories of the families and friends who use WMMT-FM to connect with their loved ones incarcerated in the region's many state and federal prisons. Directed by Sylvia Ryerson, the film is an intimate portrait of rural prison expansion that highlights the painful distances and racial biases created by our system of mass incarceration. Calls From Home just received the Jack Spadaro Documentary Award from the Appalachian Studies Association and has been screened as part of WMMT Flood Recovery fundraisers around the region. Stay tuned for online access to the finished film! And let us know if you would like to host a screening.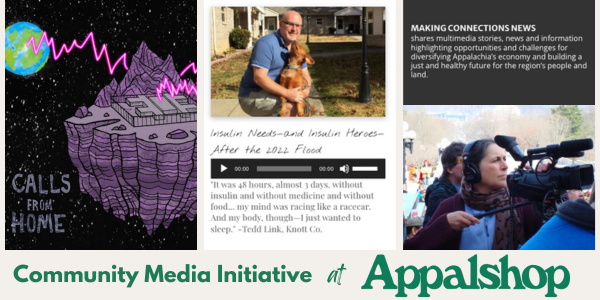 Diabetes Prevention
With support from the Kentucky Department for Public Health, CMI's Parker Hobson uses our place-based storytelling methods to produce Prevent Diabetes EKY, a series of radio features and public service announcements that share stories of eastern Kentuckians who are making lifestyle changes to prevent or control this deadly disease, which has such a high rate in our region. These stories by and about local folks are particularly effective at helping others better understand this serious health problem and increase awareness of steps they too can take to improve their health. These audio stories, which air on WMMT and other public radio stations, are available at www.preventdiabetesEKY.org. The website includes resources on diabetes and locations of diabetes prevention programs around Kentucky.
Beginning this summer, CMI will also be working with the Kentucky Office of Community Health Workers, through the Department of Public Health, Division of Prevention and Quality Improvement, to develop new media stories to increase awareness and understanding of community health workers' unique role and impact on communities across Kentucky.
Public Affairs
Since 2010, CMI has been leading efforts to produce short radio features for WMMT as well as video reports on Appalachia's changing economy. Making Connections News stories focus on ideas and challenges for making a transition from fossil fuels to a more sustainable economy and healthier communities. Recognizing that healthy communities need adequate access to the basic necessities of life—such as food, health care, housing, childcare, quality schools, social services, and functional government—we have expanded our storytelling to include reports on social, racial, and economic justice issues as well. Visit the storybank to access over 275 reports.