Tomorrow, July 28, marks the one-year anniversary of the devastating Eastern Kentucky floods, which decimated many communities along the North Fork Kentucky River. Our iconic cedar-clad building was hit hard, especially the first floor, which housed our Archive; our radio station, WMMT-FM; and our theater.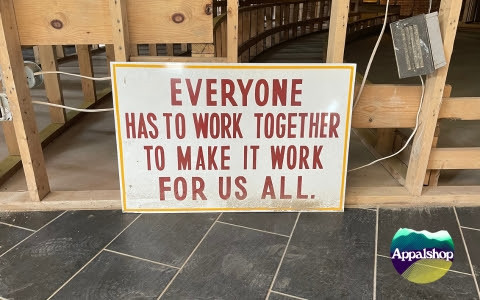 In the year since, we have made many strides. We now have two temporary office spaces in Letcher County for the next year, one in Whitesburg and one in Jenkins. We also have moved WMMT into a mobile RV, the Possum Den. WMMT has been back to live broadcasts for several months and is able to move with the weather in order to keep the community informed. Our Archive has sent assets to restoration labs around the country, including Iron Mountain, Spec Brothers, and AV Geeks, and we've been encouraged to see photographs and audiovisual material not only cleaned but also digitized.
We still have a long road ahead of us, and a big goal is securing a permanent location. We recently learned that our main building is not only in the floodplain, but also the floodway, meaning it would impede the flow of future flood waters. This news unfortunately limits what rebuilding we can do. In addition to full flood mitigation, we would need to meet specific FEMA requirements, likely resulting in the loss of our first floor, which was historically the hub of community activities.
But we are nothing if not creative. We are committed to Whitesburg, to Letcher County, and to Central Appalachia. And as we look back at the results of a 1,000-year flood that promises to come much more frequently, we also look forward. To creating art and media. To celebrating community. To amplifying Appalachian voices.
The flood may have slowed us down, but it did not stop us. We are so grateful for each of you and your continued support.