The tapestry of changing leaves and the first frosts of fall signal a need for rest and reflection. Here at Appalshop, it also signals the start of our most important fundraiser. Following the July 2022 flood, you showed your appreciation for Appalshop through an immense outpouring of support that led to a record year of funds raised and donations given. And as we reflect on our needs then and our needs now and the many accomplishments along the way, we wait with baited breath for another outstanding season of lifting up Appalshop and our programs.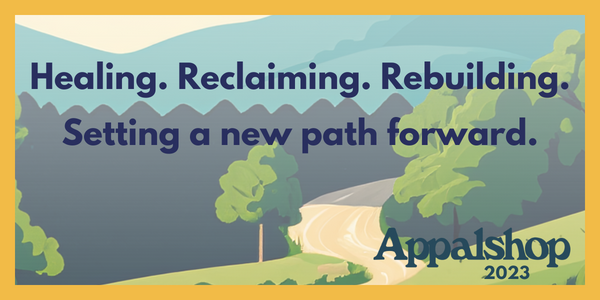 2023 has been a year of recovery, in every sense of the word. Since the July 2022 flood washed away any sense of normalcy in Letcher County, we have been faced with the difficult task of healing, of reclaiming and rebuilding, of setting a new path forward. Growth after a disaster is painful, but we also see it as a chance to center our mission and community in our work. And this year, that work has been plentiful. Here's a snapshot of just that:
Here's a snapshot of the work we've accomplished over the last year or so, thanks in part to donations from friends and supporters like you:
WMMT retrofitted an RV for their return to live broadcasting and tripled Pick & Bow enrollment
AMI films were featured around the world and raked in the film festival awards
Appalshop Films released two new productions
CMI expanded All Access EKY to 14 Kentucky counties
Appalshop staff attended the International Community Arts Festival, advocated for our community at the White House Climate Summit, and made great strides in securing future facilities options.
More challenges lay before us, there's no denying that. Appalshop was built through ingenuity and grit and over these last almost 55 years, we've told story after story that challenged stereotypes, shined a light on community issues some wanted ignored, and gave folks a place to hear their own voice and the voices of their neighbors above the clamor of it all. With your continued support, we can make it another five decades of uplifting voices and making art and media in these mountains and beyond.
So, as we look back and look ahead, we are doing our best to stay true to our mission of celebrating, amplifying, and disseminating the diverse voices of Central Appalachia. If you are willing and able to contribute, please consider making a one-time or recurring gift or sending a mailed gift to PO Box 1325 Whitesburg, KY 41858.
Your support today will keep the story going tomorrow.
---
We also join our colleagues over at WMMT 88.7 Possum Radio - the greatest little radio station in the whole wide whirled - in thanking everyone who contributed to their 2023 Fall Fund Drive.