As the weather begins to cool and the leaves start to change, we have some exciting news to share!
White House Invitation
The Biden-Harris Administration has invited us to attend the White House Summit on Building Climate Resilient Communities, held on September 28 in DC. As announced by President Biden earlier this summer, this summit aims to bring together local, state, Tribal, and territorial leaders and practitioners focused on climate resilience. On our behalf, Executive Director Alex Gibson is discussing opportunities to develop effective climate resilience strategies.
In Appalachia, coal and timber companies have a long history of negligence that exacerbates natural disasters. By clear-cutting forests and removing topsoil and mountaintops, industries force local communities to reckon with dangerous erosion, water contamination, and historic floods—such as the one we experienced in 2022.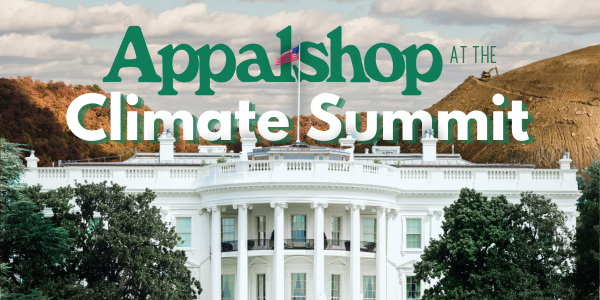 Economic Impact
During our recent board meeting, Sarah Lyon-Hill of Virginia Tech's Center for Economic and Community Engagement presented an economic feasibility study. As part of that presentation, she shared fascinating statistics on the social and economic impacts of Appalshop.
We were thrilled to learn that our average annual economic impact from 2015 to 2021 included nine jobs, over $50k in local and state tax revenue, nearly $450k in GPD, and over $870k in economic output. (Note: The job count does not include Appalshop employees or staff from ancillary businesses we have helped create.)

We see these numbers as confirmation of more than fifty years of hard work and as a reminder of our responsibility to our community. Thank you for your work, Sarah!

32-Hour Workweek
In an era when nonprofits are experiencing high burnout rates, the most common recommendations for organizational leadership include prioritizing a healthy work-life balance and raising salaries. This past spring, as a way to create the world we want to live in, we addressed these concerns by instituting a 32-hour workweek pilot program with no cuts in pay or reduction in our 100% employer-paid healthcare and benefits.
To prepare for the pilot program, we researched best practices and potential difficulties. We set meeting-free Fridays and, rather than capping full-time hours at 32, chose to define full-time as 32–40 hours per week. This "Flex Friday" method allows staff extra time to complete projects, if needed, while also encouraging them to take all or part of the day for themselves. We also committed to rearranging responsibilities to ensure all staff have the ability to complete their work in 32 hours. Six months later, 63% of our staff saw an improvement in their work, 74% experienced higher motivation, and a whopping 80% experienced a better work-life balance!

After seeing the data, our board officially adopted the 32-hour workweek schedule. We are thrilled to help our staff better care for themselves and their families. Moving forward, our business hours will be Monday through Thursday, 9 am to 6 pm.