Appalshop Archive Receives Save America's Treasure Grant
2 months ago
We are thrilled to announce that Appalshop Archive has been awarded a $750,000 Save America's Treasures matching grant to treat and digitize moving image materials that were damaged in the July 2022 flood. The funds will help cover preservation lab costs to salvage hundreds of hours of moving images that document life in Central Appalachia, from the 1930s to the present day. Save America's Treasures requires applicants to match the grant money dollar-for-dollar with nonfederal funding.
Save America's Treasures is administered by the National Park Service (NPS) in partnership with the National Endowment for the Arts (NEA), the National Endowment for the Humanities (NEH), and the Institute for Museum and Library Services (IMLS).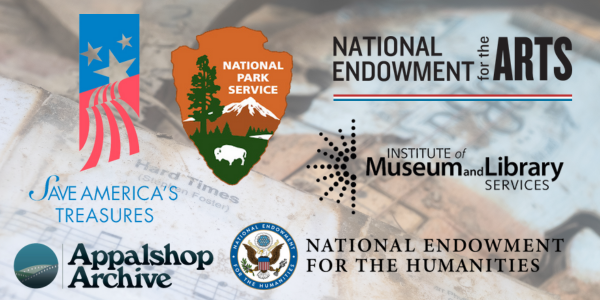 "These grants preserve and conserve nationally significant properties and collections to tell a more complete story of America and its people," said NPS Director Chuck Sams. "Preserving these historic places and collections ensures the generations of today and tomorrow can enjoy and learn from the diverse stories across time and place in America's history."
We extend our deep gratitude to the NPS for recognizing the importance of our work!
To learn more about where we are in our flood recovery, join me for a free virtual presentation with the Louisville Genealogical Society on Tuesday, September 26, at 1:00 pm ET! Archive Director, Caroline Rubens, will give an overview of Appalshop Archive's archival collections, flood recovery process, and lessons learned in the aftermath of the flood. You can register here.
And if you are interested in helping us reach the matching funds goal, donate by choosing "Appalshop Archive" in this dropdown menu.
Back Home